Rubber products manufacturers
Rubber products manufacturers
Contact Us
09/12/2023
Calle 39 N° 2067 Villa Maipú
San Martín
Buenos Aires - R. Argentina
Phone: (54-11) 4753-1201
Fax: (54-11) 4752-0830
Ask for: Rubber products manufacturers Contact Us
Click here
Last update: 09/12/2023 15:21:36
Rubber products manufacturers
Calle 39 N° 2067 Villa Maipú
San Martín
Buenos Aires - R. Argentina
Phone: (54-11) 4753-1201
Fax: (54-11) 4752-0830
More info
Recommend this Page
Bookmark this page!
Guardar en:

Rubber Sleeves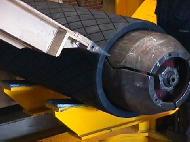 The most important steel manufacture argentine company has employed the RONCAGLIA® SLEEVE for steel sheets coils winder and de-winder mandrels, since more than 30 years in his five plants.
The use of this rubber sleeve, allows:
1-to protect the steel sheet, the defects caused by the metallic mandrel, on the first loops. When a metallic mandrel is opened against the thin metallic sheets, usually a typical mark has been place, on the first loops, these loops have been rejected.
2-to replace metallic supplements for different I.D. coils.    When it is necessary to produce coils with different internal diameters, the use of Roncaglia® rubber sleeve, instead of such heavy's metallic supplements, assures faster and safer installation.
3-to protect mechanical mandrel systems. When you use Roncaglia® rubber sleeve, you have an additional advantage; you are protecting the mandrel mechanisms from dust, which can affect the normal operation.   

We are Rubber Sleeves manufacturers