Rubber duckbill valve manufacturers
02/06/2023
Shims to ramp service at airports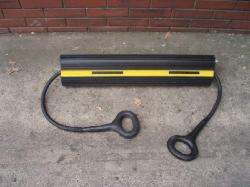 RONCAGLIA(R) manufactures several years shims for use in the service ramp, aircraft parking and airport hangars. Are intended to prevent movement that wind can cause an aircraft on the ground. For your travel more comfortable molded handles are fitted to protect the hand of anyone handling. This model greatly improves the classic hemp rope with knots at the ends, is registered as a design improvement by Roncaglia. Shims are identified with the name of Carrier and three heads are in reflective paint for better viewing in the dark. We also produce larger shims to maintain large-sized vehicles immobilized as those used on the beaches in containers and port terminals and cargo areas aeronafta in Airports.
---
Calle 39 N° 2067 Villa Maipú
San Martín
Buenos Aires - R. Argentina
Phone: (54-11) 4753-1201
Fax: (54-11) 4752-0830
More info
Recommend this Page
Bookmark this page!
Guardar en:

Rubber Sleeves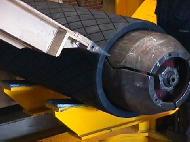 The most important steel manufacture argentine company has employed the RONCAGLIA® SLEEVE for steel sheets coils winder and de-winder mandrels, since more than 30 years in his five plants.
The use of this rubber sleeve, allows:
1-to protect the steel sheet, the defects caused by the metallic mandrel, on the first loops. When a metallic mandrel is opened against the thin metallic sheets, usually a typical mark has been place, on the first loops, these loops have been rejected.
2-to replace metallic supplements for different I.D. coils.    When it is necessary to produce coils with different internal diameters, the use of Roncaglia® rubber sleeve, instead of such heavy's metallic supplements, assures faster and safer installation.
3-to protect mechanical mandrel systems. When you use Roncaglia® rubber sleeve, you have an additional advantage; you are protecting the mandrel mechanisms from dust, which can affect the normal operation.   

We are Rubber Sleeves manufacturers